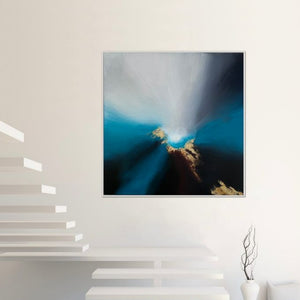 "Light creates ambience and feel of a place, as well as the expression of a structure." - Le Corbusier
"Magic of Light" painting is from my Love and Light series, which I created during Pandemic.
I have shown a strong contrast between light and dark to create a sense of volume and depth. In addition to its aesthetic qualities, light also represent enlightenment, spirituality, or the divine. 
Acrylic on Canvas
30" x 30"
Ready to hang. Comes with a white floating frame.